Jeju Information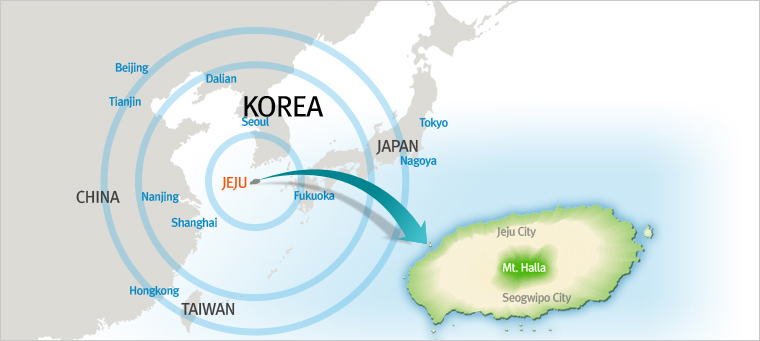 Located:

In close proximity to major cities of Korea, China, and Japan at a central location in Northeast Asia.
Population:

562,000
Area:

1,848 ㎢ (the largest island of the Korea Republic)
Climate:

Subtropical with distinctive four seasons.
Visa:

No-visa entry allowed for visitors from 180 countries up to 30 days.
More about Jeju Special Self-Governing Province
Visa
Jeju Island is a special self-governing province and visitors from 180 countries are allowed to enter the island without a visa. Visitors from these 180 countries are permitted to enter Jeju Island and stay up to 30 days without Korean Visa according to "Special Law of Jeju Liberal City" with exception of designated 11 countries listed below.
Terms for Visa-free Entry to Jeju Island

* Length of stay does not exceed 30 days.

* Those eligible must take direct routes to Jeju Island, or with Jeju Island listed as their final destination.
Visitors from any of these 11 countries are not permitted to enter without a visa

Ghana, Nigeria, Libya, Macedonia, Sudan, Syria, Afghanistan, Iran, Iraq, Cuba, Palestine
Chinese Visitors

Chinese citizens holding passport issued by the People's Republic of China, are entitled to visa-free entry to Jeju Island. This entitlement is valid if:

- Tourist holds a passport issued by the People's Republic of China.
- Tourist must join a Chinese group tourist program hosted by Korean or Chinese travel agents recognized by the Korea- China memorandum
- Tourist arriving at the Incheon International Airport must depart from Korea through the Incheon International Airport, Gimpo International Airport or Jeju International Airport
- Period of stay is no longer than 15 days.
It is best to consult your local consular office for the latest information with regard to visiting Korea.
More about Visa-free Entry of Foreigners
World's First Recipient of UNESCO's Triple Crowns
Jeju Island is well known for its abundance of scenic natural wonders and cobalt blue sea. The island was designated as geoparks by UNESCO and is the world's first recipient of UNESCO's triple crowns in the fields of nature and science – Biosphere Reserve (2002), World Natural Heritage (2007) and World Geoparks (2010).
Seongsan Ilchulbong

Manjanggul Lava Tube

Biyang Island

Mt. Hallasan
More about Jeju Island Geopark
Jeju Olle Trail, the Route for Walking Travelers
Jeju Olle Trail is the way for walking travelers. We found it necessary to have a long route for only those who enjoy walking in this beautiful land, Jeju. We, then, connected broken paths, discovered forgotten paths and brought out disappeared paths that have become Jeju Olle Trail today. Figuratively speaking, traveling by cars is dotted journeys where Jeju Olle Trail is a journey of a long line. You can reveal the interior of Jeju walking on Jeju Olle Trail which you can't do from short sojourns in dots. Until you walk around the beautiful island of Jeju and are fascinated by hidden and unexplored regions in the hilly and mountainous areas and small islands, the routes in Jeju Olle Trail continue to lead you.