Access to Jeju
The Jeju International Airport has a total of 29 direct routes (13 domestic and16 international).
Domestic routes link Jeju and elsewhere in the nation- Incheon, Gimpo, Gimhae, Chongju, Wonju, Daegu, Gunsan, Gwangju, Ulsan, Pohang, Sacheon, Yeosu and Muan. International routes connect Jeju and cities of three countries-Japan, China and Taiwan. The cities are Tokyo, Osaka, Nagoya and Fukuoka in Japan and Beijing, Shanghai, Dalian, Changchun, Shenyang, Harbin, Xian, Lanzhou, Yanji and Hangzhou in China as well as Taiwanese cities of Taipei and Kaohsiung.
94 percent of tourists to Jeju use airplanes. They take off and land 143,000 times in a year including Boeing 747's using the 3km runway and the Jeju Airport can handle 15.2 million passengers a year. Based on mid & long term airport expansion plans, 375.5 Mil. USD will be invested to expand the airport till 2020. During the first phase of the project up to 2010, they expanded the capacity of the taking off and landing to 177,000 times and enlarge major facilities so that they could handle 18.64 million passengers, a year.
More about Jeju International Airport
Access to ICC Jeju
From Jeju International Airport, you will reach ICC Jeju in approximately 40-50 minutes by car through Pyeonghwa-Ro Road. Limousine buses are also available every 15 minutes at the airport.
WCMISST 2016 Information Desk
All participants of WCMISST 2016 will be informed about the transportation guide from airport to ICC Jeju at the Information Desk located in the Jeju International Airport.
Operating Hours & Location
Date
Operating Hours
Location
Desk Signage
June 1 (Wed)
14:00 ~ 18:00
Domestic & International
Arrival Gate
(1F, Jeju International Airport)
June 2 (Thu)
09:00 ~ 18:00
Guide to the airport limousines
(Jeju International Airport ↔ International Convention Center Jeju (ICC Jeju)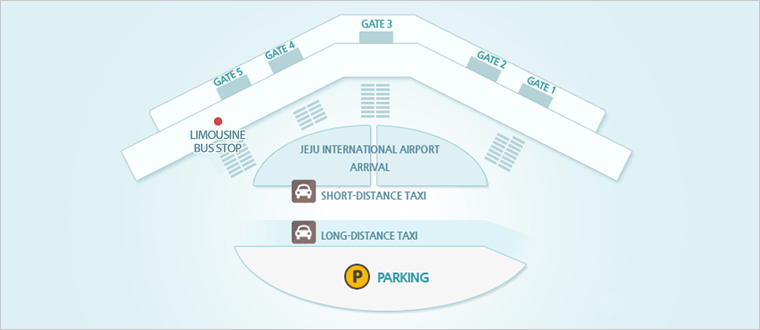 Place:

Limousine bus stop at the left side of the front gate (Samyoung Traffic No. 600)
Fare (Korean won):

About 4,500 won (as of June, 2015)
* Pay the fare as you get on, by cash.
First departure:

06:20 at the airport
Last departure:

after the arrival of the last airplane
Service route:

Jeju International Airport – T.H.E Hotel – Hyatt Hotel – Shilla Hotel – Sweet Hotel – Lotte Hotel – Hanguk Condominium – Korea Tourism Organization – Seaes Hotel –

International Convention Center Jeju (ICC Jeju)

– Daepo port – Yakcheon Temple – Gangjeong Maeul – Pungrim Resort – Worldcup Stadium – New Gyeongnam Hotel – Seogwi-po Port – Paradise Hotel – KAL Hotel
Taxi Guide
(Jungmun - Jeju International Airport)
Select the distance (long-distance or short-distance) at the taxi stop.
When you go to the Center, it is all right to take a taxi at the long-distance stop.
Since the taxi fare is fixed, please confirm the distance before taking a taxi.
Fare (Korean won):

About 30,000 won
Distance:

40km
Duration:

40-45 minutes
Rental Car Guide
Advanced reservation is recommended if you plan to rent a car.
Upon arrival, you can sign up for rental cars at the rent-a-car desk nearby airport exit.